Sue Watson hits one million sales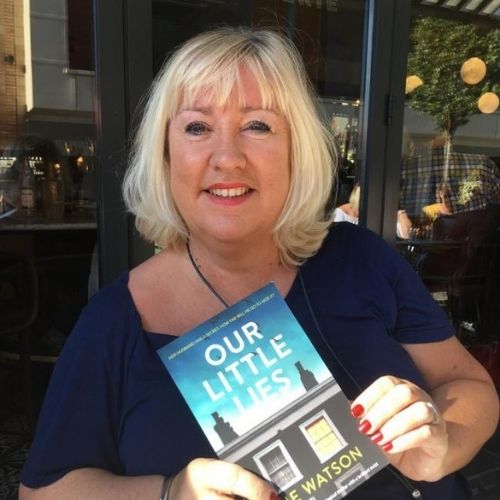 We are absolutely thrilled to announce that we have sold over ONE MILLION COPIES of Sue Watson's books.
Sue's first book, Love, Lies and Lemon Cakes published in June 2014. Since her first book seven years ago, we have gone on to publish fifteen more titles and we have three more books to come in 2022 and 2023. Sue has moved from being a successful romance writer to becoming the Queen of psychological suspense, making it into the Amazon top 100 on 23 occasions. As well as securing translation deals in five languages, we will be publishing Our Little Lies and The Sister-in-Law through our Bookouture Deutschland imprint in 2022. And her success isn't just in ebook format as Our Little Lies remains one of our top-selling audiobooks of all time.
Sue Watson says:
'When I started writing, I never in my wildest dreams expected to sell a million books. But like most successful stories, there's a cast of characters who all played their part and it started with Oliver Rhodes, who believed in me, signed me to Bookouture, and changed my life. My first editor Emily Ruston turned my early, romantic comedy drafts into books, Isobel Akenhead turned my thrillers into best sellers, and my current editor Helen Jenner, helped me over the line to reach that magic million. I couldn't have done it without them and the brilliant and supportive team at Bookouture. But the story doesn't end there, because none of this could have happened without reviewers and readers who have championed my writing and bought my books.'
Associate Publisher Helen Jenner says,
'Sue certainly lives up to her bestselling author title and selling over a million copies is testament to just how brilliant she is. Her writing is flawless, her characters are so real, you could almost be sitting down at the table watching their every move, and her twists – well, they will blow you away! I'm over the moon that Sue has reached this milestone. She works so hard and delivers such pulse-pounding books which always get excellent reviews. She is a joy to work with and I wish her many, many more milestones!'
We'd love you to join us on Facebook and Twitter to celebrate this awesome news.