Sad News: Betty Rowlands, the 'Queen of Cozy Crime', passes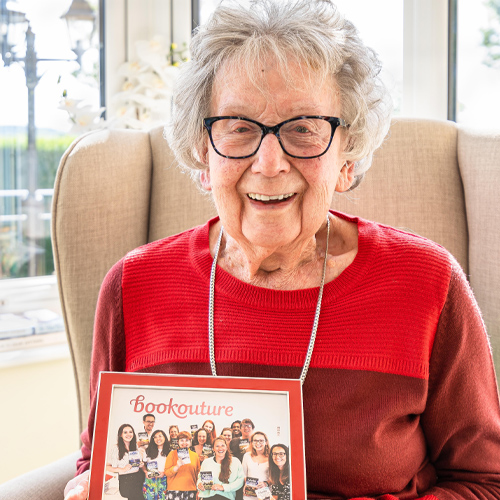 We are very sad to announce that our author Betty Rowlands died on 29 July, 2020, a few months before her ninety-seventh birthday. She passed away peacefully in the residential home that she called 'home'. Referred to at Bookouture as the 'Queen of Cozy Crime', she was a runaway bestseller in 2018 and 2019.
Betty burst on to the crime scene in her mid-sixties by winning the Sunday Express / Veuve Clicquot Crime Short Story of the Year Competition in 1988, which shows that it is never too late to start writing. For many years, Betty lived in the heart of the Cotswolds, where her Melissa Craig mysteries are set, before moving to Bristol. She was first published in the 1990s by Hodder & Stoughton and Severn House, and then digitally by Orion's Murder Room imprint, before Bookouture acquired her books as a backlist acquisition. With new titles and covers as well as a vigorous publication schedule, Bookouture were able to give her titles a fresh lease of life.
Publishing Betty has been an enormous delight for the whole team at Bookouture. Her editor Maisie Lawrence said,
'When I visited Betty last year, she reminded me that the best books have, "a little bit of sex and not too much violence". When I gently probed her about writing a couple more books, she looked me straight in the eye and said that sounded "a lot like hard work". One of my favourite things about Betty is that for most of the last year, the only author she read was herself. She loved our new audio editions of her books and enjoyed getting to know her characters again. I wasn't ready for our conversations to end and will miss her more than I can say.'
Betty's twenty-five books and three boxsets have sold over 380,000 copies across all formats. All twelve books in her Melissa Craig Mystery series hit the UK Kindle top 100, and she is a top-five bestseller in Canada. Betty was very proud of her success and had all the residents and staff of her nursing home reading her books. Her many fans included Val McDermid who called her first novel, 'full of sharp insights with an unexpected twist in the tail'. Betty was delighted that her books enjoyed a resurgence in popularity and loved reading letters from her many readers. She is survived by two of her three children, four grandchildren and six great-grandchildren. Messages of condolence, memories to share and donations to Book Trust, Getting Children Reading can be sent c/o R Davies, 63 Westbury Hill, Westbury on Trym, Bristol BS9 3AD.