Remarkable rags-to-riches tale for Black Country author who never thought she'd write again, as she sells five million copies of the Kim Stone detective series.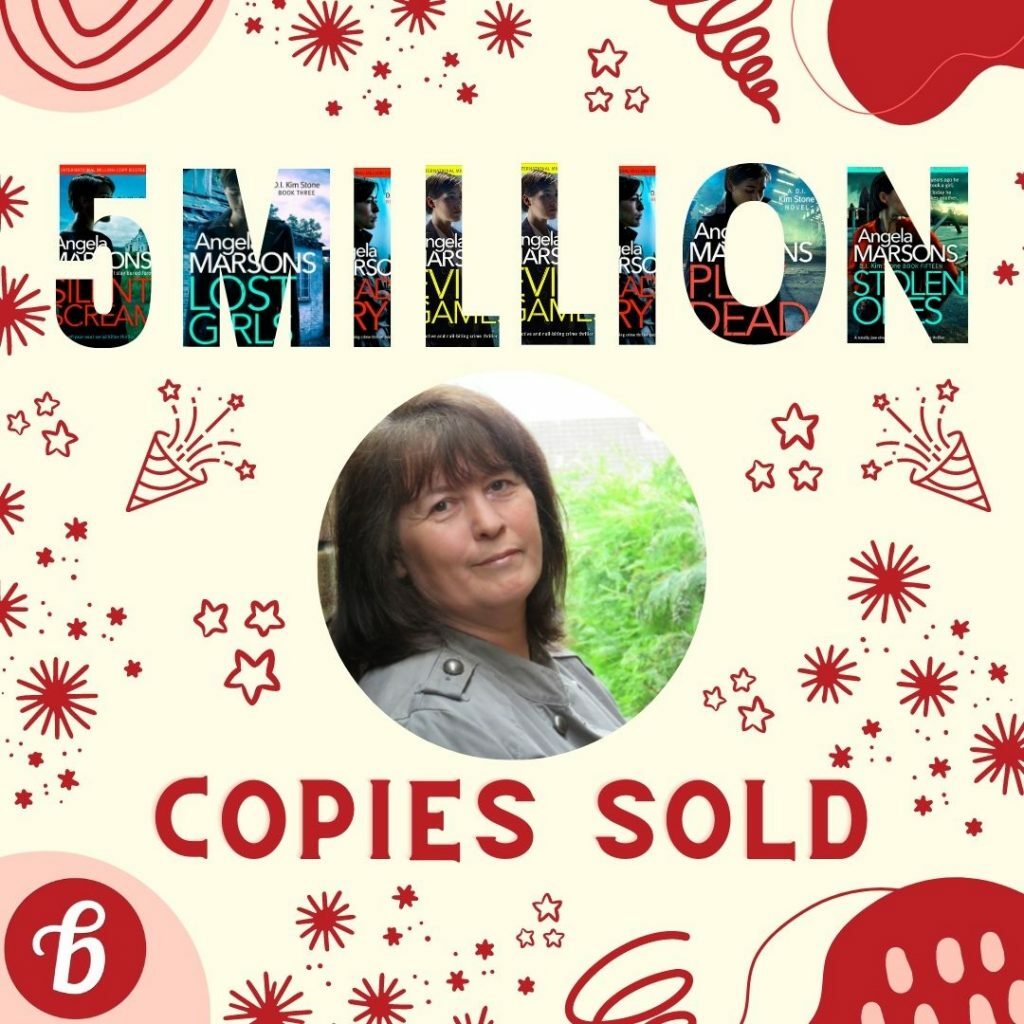 We are SO DELIGHTED to share the remarkable rags-to-riches tale for Angela Marsons, the Black Country author who never thought she'd write again, as she sells five million copies of the Kim Stone detective series.
Silent Scream, book one in the Angela Marsons' phenomenal bestselling Detective Kim Stone crime thriller series was published in 2015 and the series has now sold more than 5 million copies. It has also been translated into 29 different languages. The books consistently rocket to the number one spot on pre-orders alone. Silent Scream, has now gone on to sell in excess of 1.1 million copies. Book sixteen in the series, will be published in May 2022 and, like the previous books in the Detective Kim Stone series, went straight to number one within hours of the book going live for pre-order.
In September 2014, Angela had hit rock bottom. With money tight after being made redundant from her job of nineteen years, and with her disabled partner recovering from major surgery, Angela was turned down for a job in an Amazon warehouse. Forced to sell their belongings and borrow from family members to pay the mortgage, the prospect of losing their home was a very real one.
To make matters worse, Angela's dreams of becoming an author were crushed when she parted ways from a top London literary agency. The feedback from publishers on her crime thriller series was always the same: 'We love it… but not enough'. Some worried about the Black Country setting, others that readers wouldn't warm to her formidable, no-nonsense lead character, Detective Kim Stone. With her confidence crushed, Angela, who pens all her first drafts by hand, couldn't even pick up a pencil to write.
Then in October 2014, Angela received an email from Claire Bord at Bookouture saying she was reading and loving Silent Scream and did she have any more ideas? A week later, Angela signed for the first four books in the Kim Stone series. Angela was 48 years old and couldn't believe that her dream of writing for a living was going to come true.
Angela said,
'It was a lifeline for me – I didn't have any expectations about what I'd sell, I thought maybe five hundred copies, but I just wanted to see what readers thought. I wanted them to enjoy it.'
'It is no secret that I tried to break into traditional publishing for many years. I do now believe that everything happens for a reason and that fate was waiting until Bookouture was born. They gave me an opportunity I'd been trying to get for many many years.'
Publisher Claire Bord said,
'I remember reading the first few pages of Silent Scream and instinctively thinking, we HAVE to sign this author. The launch of the Detective Kim Stone series marked with Silent Scream marked Bookouture's first ever crime fiction release. In Kim Stone, Angela has created a much-loved detective character that readers can't wait to return to. To have achieved 5 million sales is such a short space of time and fifteen books in, to still be consistently hitting the top of the bestseller lists is absolutely extraordinary. Angela is so integral to the success of Bookouture and we're so incredibly proud of our publishing partnership with her.'
Bookouture Managing Director, Jenny Geras said,
'When I think about those 5 million copies sold, I think mainly about those 5 million reading experiences; all those readers gripped by the Kim Stone series, unable to put their books down, desperate to know what's next and whether Kim will catch the killer in time. Those 5 million sales represent all those hours of happy reading that Angela Marsons has brought to crime and thriller readers, and we look forward to working with her on many, many more.'
Please do join us on our Facebook page at 12.30pm (UK) today where we will be holding a Facebook Live and join us on Twitter too to celebrate this incredible news.