Q&A with Kane & Alton from D.K. Hood's bestselling series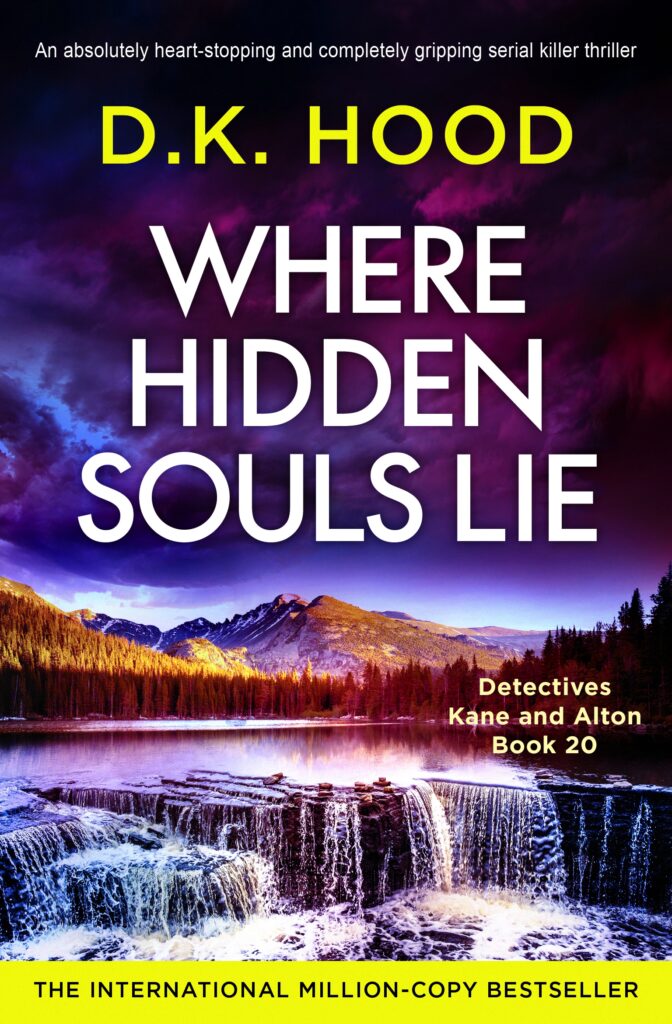 It's publication day for Where Hidden Souls Lie, book 20 in the gripping Kane & Alton crime thriller series by Wall Street Journal, USA TODAY, and international million-copy bestselling author, D.K. Hood.
To celebrate, we have a real treat for readers as Jenna Alton and Dave Kane join us to answer a few questions. So without further ado, let's see what they have to say.
Interviewer,
'Detective Kane, throughout the series, we've seen your dedication to the job, often at the cost of your personal life. What do you believe drives you to seek justice so relentlessly, and how do you manage the balance between duty and personal well-being?'
Kane,
'Well, it's common knowledge I have a military background, so my mindset is to protect and serve. It's not something I think about, it's part of who I am as a person. It's dangerous times, and someone has to be on the front line. Who else would you trust to have Jenna's back, when she faces down serial killers? I believe I handle my personal life and the job well and don't allow it to interfere. The thing is, in my line of work, no one is truly safe. All I can do is shield my family and those I'm duty bound to protect with all the skills I possess, no matter the personal sacrifice.'
Interviewer,
'Sheriff Alton, the readers have had the privilege of watching your journey, navigating the challenges of being in a position of authority in a male-dominated field. Can you tell us about a pivotal moment in your career that helped shape your no-nonsense attitude?'
Alton,
'When I was DEA Agent Avril Parker, (you can read all about her in Don't Look Back) I was subject to spousal abuse and witnessed child abuse. At that time, because I was working undercover, I was helpless to stop either. The day I destroyed the cartel and brought my abusive husband to justice, was the pivotal moment in my career. I decided then, I'd fight my way into a position of authority and use that power to stand up for women, children, and men, who are subject to abusive or coercive behaviour. It may be a male dominated field but it often takes a woman's voice to make people take notice.'
Interviewer,
'The two of you have faced some intense and chilling cases together. Can you share one case that has haunted you the most and why it had such an impact on you both?'
Kane,
'The most disturbing case for both of us was the serial killer who posed his victims in wax and displayed them in a Christmas nativity scene in the local park. We think about that every Christmas and so do many others because since then the nativity scenes have been small figurines.'
Interviewer,
'It seems like Aunt Betty's is your favourite place to eat. What's your favourite thing off the menu?'
Alton,
'Bagels and cream cheese. Peach pie.'
Kane,
'Barbecue ribs and all the trimmings. Cherry pie.'
Interviewer,
'Lastly, to both Kane & Alton: Black Rock Falls is a place filled with secrets and unexpected perils. What would you say is the most important lesson or insight you've gained from serving and protecting its residents?'
Alton,
'A serial killer can be standing right beside you. He/she could be your best friend, a neighbour or the woman who cuts your hair.  Black Rock Falls has become serial killer central, it puts stranger danger on a whole new level.'
Kane,
'The mountains, forests and lowlands all have their own dangers regardless of the human aspect. People can walk into the forest and vanish. The problem is, there are so many places for people to live off the grid. Some are harmless but in Black Rock Falls, you should never go into the forest alone. Chances are if the wildlife doesn't get you, a serial killer will.'
Thank you both so much for joining us here today. We'd better let you get back to serial killer central while we carry on celebrating with D.K. Hood.
If you like to see what this dynamic duo are up to in Where Hidden Souls Lie, you can grab a copy here!