Happy Birthday to Silent Scream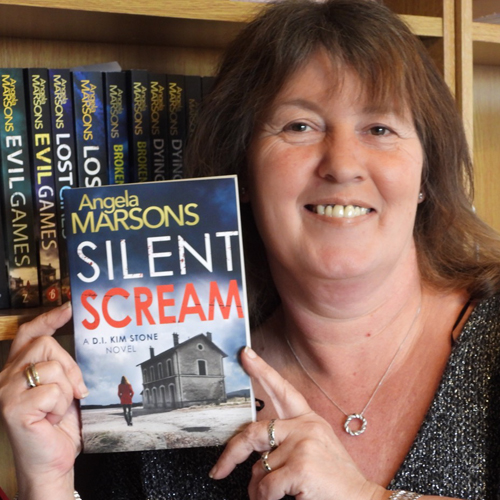 Amazon, Wall Street Journal and USA Today bestselling author Angela Marsons is celebrating a phenomenal 4 MILLION COPIES sold as her first book in the Detective Kim Stone crime series Silent Scream, celebrates its fifth birthday today.
Silent Scream, Angela's debut crime novel was published on the 20th February 2015. It has since been published in 28 languages, hit the number one in the UK Kindle charts, was a Kindle US bestseller and hit the bestseller lists worldwide. It has gone on to sell over a million copies.
With money tight after being made redundant from her job of nineteen years, and her disabled partner recovering from major surgery, Angela had hit rock bottom. After being turned down for a job in an Amazon warehouse, the couple were forced to sell their belongings and borrow from family members to pay the mortgage – the prospect of losing their home was a very real one.
To make matters worse, Angela's dreams of becoming an author were crushed when she parted ways with a top London literary agency. The feedback from traditional publishers was always the same: 'We love it… but not enough.' Some worried about the Black Country setting, others that readers wouldn't warm to her formidable, no-nonsense lead character, Detective Kim Stone.
With her confidence shattered, Angela, who pens all her first drafts by hand, couldn't even pick up a pencil to write.
In October 2014, Angela received an email us here at Bookouture, asking whether she might be interested in publishing with us.
Five years, twelve books and four million book sales later, the Detective Kim Stone series is still going strong. This week, the latest installment in the Detective Kim Stone series, Killing Mind rocketed to the number one spot on the UK Kindle charts within hours of the pre-order going live on Amazon.
Bookouture Publisher Claire Bord said,
'The minute I read the first chapter of Silent Scream, I knew that this series was going to be something special. The Kim Stone series has amassed an incredible number of loyal readers, with fans clamouring for the next book as soon as they finish reading the previous one, and many of the books hitting number one in the UK Kindle charts on pre-orders alone.
Angela Marsons commented,
'Reaching 4 million sales really is a dream come true. I could never have imagined finding so many readers and am so thankful to Bookouture, for helping me bring Kim Stone to life. Readers really have taken Kim Stone and the other characters into their hearts and I couldn't have wished for a more devoted audience.'
In November 2019, Bookouture published a surprise book – the prequel to the series, First Blood – which was kept strictly under wraps until publication day. On the evening of publication, it hit the number one UK Kindle chart position and is still receiving rave reviews.
Angela's books can be bought via Amazon, Apple Books, Kobo and Googleplay and can also be found or ordered through bookstores.