Bookouture publish 500th title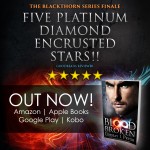 We are absolutely delighted and as proud as punch to announce that today we publish our 500th Bookouture title!
Our 500th publication is Blood Broken by Lindsay J. Pryor. Blood Broken the finale in the Blackthorn series combines sizzling passion with a dark, complex and dangerous dystopian world. Readers around the globe have been eagerly awaiting the final instalment in this bestselling series.
Blood Shadows, which was the first book in the Blackthorn series, was also the VERY FIRST title that Bookouture published way back in November 2012.
What a fabulous way to celebrate our 500th book. Congratulations to everyone who has been part of this amazing journey.
Founder and CEO Oliver Rhodes said,
I am very proud to have published Blood Shadows as Bookouture's first book and it seems fitting that Blood Broken should be our five hundredth, six-and-a-half years later. Bookouture has grown quickly over that time – from a one-person start-up to a team of twenty six, with over twenty-five million copies sold. At the heart of everything though has always been great story-telling and the Blackthorn series is a brilliant example of that. Having already read my copy of Blood Broken, I know that readers are set for a thrilling finale.
Please do join in the celebrations over on Facebook and Twitter.